Biography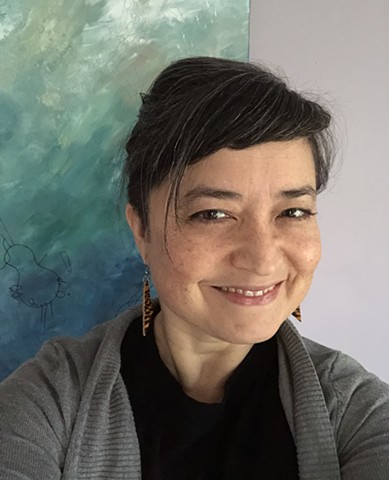 Margaret Sunghe Paek is a collaborative dance artist who sees choreography as a daring process of multiplicity and framing. Her approach involves dancing through various simultaneous identities, including that of performer, maker, choreographer, improvisor, collaborator, teacher, student, scholar, mixed-race Korean-American, mother, partner, and witness. As she blurs the distinctions between these labels in her praxis, she finds surprising inspiration and integration.
Community is essential for her artistic growth. Margaret participates in the interactive process of creation with artists and audience of all ages, training, backgrounds, and types of contribution. Her research engages in inclusionary methods and ensemble enterprises, and her career is keenly invested in collective work. She finds the potential lies in liminal listening; between us, there is art.
Creating, teaching, and allying with the performance collective, Lower Left, is a continuing source of stimulation. Margaret is deeply influenced by her relationships with gymnastics, contact improvisation, Ensemble Thinking, Alexander Technique, Nina Martin, Shelley Senter, Barbara Dilley, the Resident Artists/Dancing Mamas, Uh Oh Trio, Dahlia Nayar, musician/composer Loren Kiyoshi Dempster and their daughter. She has also had the pleasure of working with Mary Overlie, Deborah Hay, Milka Djordjevich, Keith Hennessy, Lionel Popkin, BodyCartography Project, Dahlia Nayar, and projectLIMB, among others.
Her cooperative and individual work has been presented at venues including: Dixon Place, Issue Project Room, Joyce SoHo, Judson Church, Danspace at St. Mark's Church, and the Whitney Museum in New York; Sushi Performance & Visual Art, Highways, ODC, and CounterPulse in California; the Crowley Theater and Barnevelder Movement/Arts Complex in Texas; and Sín Culture Center in Budapest, Hungary. Dance critic, Jennifer de Poyen, has called her "a dancer so full of wit and intelligence, you can't keep your eyes off her." (San Diego Union Tribune, 2002)
The practice of teaching is integral to her creative process, and Margaret has been a movement educator for over thirty years. During her ten years in NYC, Margaret regularly taught contact improvisation, Ensemble Thinking, and other courses for Movement Research, Marymount Manhattan and Manhattanville Colleges. She has also taught at: 100 Grand Dance, Dance New Amsterdam, and the New School in New York; Earthdance in Massachusetts; University of the Arts in Philadelphia; Missouri State University; Prescott College in Arizona; Purdue University in Indiana; University of California at San Diego and Sushi Performance & Visual Art in California; the Swedish Dance Alliance in Stockholm; Kontakt Budapest in Hungary; Tanzfabrik in Berlin; and the International Contact Festival in Freiburg, Germany. With Lower Left, she facilitates programs such as "March 2 Marfa," an improvisation performance lab for experienced practicioners (past guest lead artists have included Barbara Dilley, Deborah Hay, and Steve Paxton), and is currently co-developing the Ensemble Thinking teacher training program.
In the fall of 2015, she relocated from New York City to Appleton, Wisconsin to accept a position teaching dance in the Conservatory of Music at Lawrence University, and she loves it. Locally, Margaret collaborates in the LU Dance program with Mauriah Donegan Kraker, works regularly with Matt Turner and Copeland Woodruff on the LU improvised micro-operas, runs the Open Movement and Music Jams, curates the Lawrence Dance Series, creates with the LU Dance Collective Ensemble, moves and sings with the Women's Collaborative Community Circle, allies with Alongside Collective, and co-founded the Dance Network Alliance of Fox Cities.
Margaret has authored articles for Contact Quarterly and loveDANCEmore. She is on the board of Marfa Live Arts, Renaissance School for the Arts, Makaroff Youth Ballet, and serves on Earthdance's Contact Improvisation Committee. She received her BA in Psychology, minor in Theatre Dance from UC San Diego and her MFA from the Hollins University/American Dance Festival three-summer low-residency program.